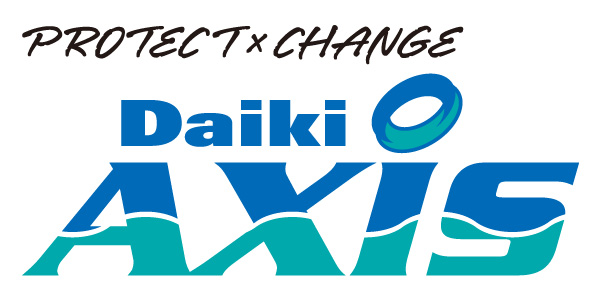 Protect the environment and change the future.
Marking the 10th anniversary of Daiki Axis' establishment, we adopted a new corporate slogan in 2016 defining the optimal stance for the enterprise to take as we look toward further accelerating the pace of our global expansion:
"PROTECTxCHANGE" (read "PROTECT by CHANGE").
The slogan signifies the concept: "Protect the environment and change the future."
To bear the duty to staunchly protect the environment with water-related business as our central focus—as in the days before, so in the days ahead.
Furthermore, to strive for success with a range of new business projects aimed at creating a society and future of more abundance and sustainability.
This spirit of determination constitutes the essence of our corporate slogan and represents a promise from Daiki Axis to the world.
First we will work to construct a corporate culture able to move forward with fulfilling this promise from within Daiki Axis.
Then we will actively communicate this new slogan of ours to the whole world.
Daiki Axis is devoted to creating a new future with ever more determination, guided by the "PROTECTxCHANGE" spirit.