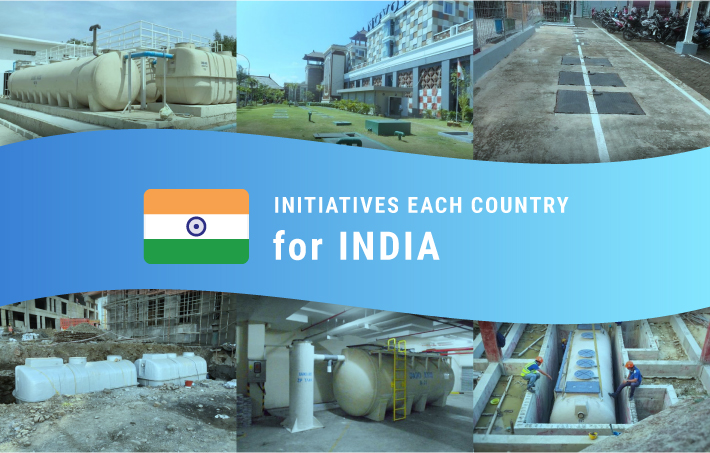 Daiki Axis contributes to the improvement and conservation of the water environment in India.
By treating wastewater and reusing it locally, we provide a safe sanitary environment and conserve fresh water.
Daiki Axis India Private Limited is a wholly owned subsidiary of Daiki Axis Japan Ltd. Daiki Corporation, the predecessor of Daiki Axis, started its wastewater treatment business in Matsuyama City, Ehime Prefecture in 1958. Since then, the company has been leading the wastewater treatment industry in Japan by developing light and strong FRP (fiber reinforced plastic) Johkasou(septic tanks). We have been towards "eco-creation and development company" that protects the water environment and will continue our efforts.
Daiki Axis Activities in India
Proactive Business Development Activities
We are actively engaged in sales activities throughout India to promote the high performance of our products and to expand our sales channels. We have sales offices and authorized distributors in more than 20 cities in India, and we are appealing to private customers and government authorities in each state.
Johkasou Installation Inauguration Ceremony in Mumbai
Online Meeting with Chief Minister of Haryana State
Exhibition of 8th edition of FICCI Water Award and 6th edition of India Industry Water Conclave
Our Customers
Government
Delhi Development Authority, Delhi JAL Board, Greater Mumbai Municipal Corporation, Haryana State Government, UP State Government (etc.)
Municipal Corporation
NTPC, IOCL (etc.)
Privat Enterprise
SAINT-GOBAIN, TVS Group, Murugappa Group
Quality Assurance
Quality Assurance Protocol
Daiki Axis develops Johkasou(septic tanks) considering the actual conditions in India, using the technological expertise it has acquired in Japan. Our products are carried out thorough quality control at every stage of the manufacturing process, not to mention final quality checks, and we provide high-quality products of Japanese quality.
Based on our experience in manufacturing millions of Johkasou and the valuable feedback we have received from our customers, we provide a total service from planning and development to design, manufacturing, installation, and maintenance. Therefore we can provide consistent services to all of our customers.
As a result of continuous technological development, the quality of our products has been recognized in India and we were able to obtain the government certification.
Confederation of Indian Industry – Green Products Certification on Johkasou
ISO 9001 Certification
Project Example
Wastewater Regulation in India
In India, infrastructure development cannot keep pace with rapid population growth and remarkable urban development, water pollution and water shortages have become major problems.
Effluent standards are specified in the Environment (Protection) Rules 1986, a subordinate legislation of the Environmental Protection Act. Based on these rules, India draws up effluent standards for specific facilities and general effluent standards for other facilities.

Daiki Axis India Introduction Movie