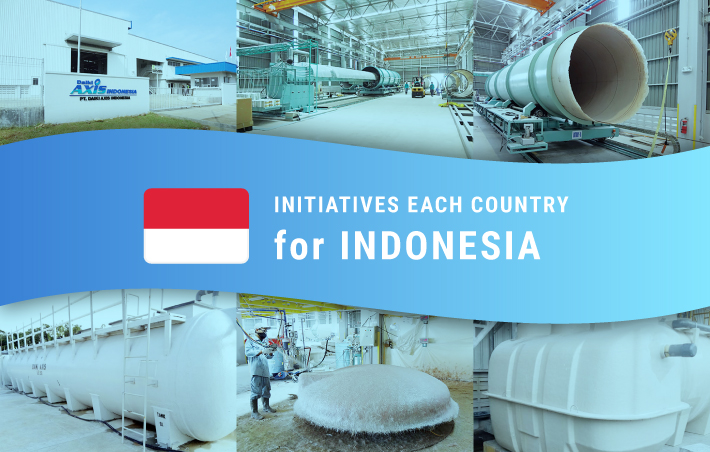 Daiki Axis contributes to the improvement and conservation of the water environment in Indonesia.
By treating wastewater, we provide a safe sanitary environment and conserve fresh water.
PT.Daiki Axis Indonesia is a wholly owned subsidiary of Daiki Axis Japan Ltd. Daiki Corporation, the predecessor of Daiki Axis, started its wastewater treatment business in Matsuyama City, Ehime Prefecture in 1958. Since then, the company has been leading the wastewater treatment industry in Japan by developing light and strong FRP (fiber reinforced plastic) Johkasou(septic tanks). We have been towards "eco-creation and development company" that protects the water environment and will continue our efforts.
Daiki Axis Activities in Indonesia
Factory with advanced equipment
PT.Daiki Axis Indonesia has its manufacturing system in industrial area of Kawasan Industri Modern Cikande(KIMC). As of end-FY2020, the company had the capacity to produce 250–300 Johkasou per year in Indonesia. We have imported manufacturing facilities from Japan, which are same facility Daiki Axis Japan uses for factories in Japan. We hand down production technology to Indonesian workers to establish secure manufacturing quality control system.
Our production system is ready for anything, including overseas demand. Many products that Indonesian factory produces are exported to countries in Southeast Asia and even Africa. At the plants, various types of Johkasou (Domestic Wastewater Treatment System) are manufactured for meeting the domestic and overseas demand promptly.
interior of The Factory
Spray molding
Automatic Molding Machine
Cylinder Molding Machine
Automatic Opener
Product Assembly
Proactive Business Activities
Daiki Axis Indonesia is actively engaged in sales activities throughout Indonesia to promote the high performance of our Johkasou-STP products and to expand our sales channels. We have company offices in Jakarta and Surabaya. We started to develop official dealer channels in 2021, and we are appealing to private customers and government authorities in whole country.

Indonesia Factory
PT.HIMALAYA EVEREST JAYA
PT.Cipta Karya Maju contract